Leadership
From the President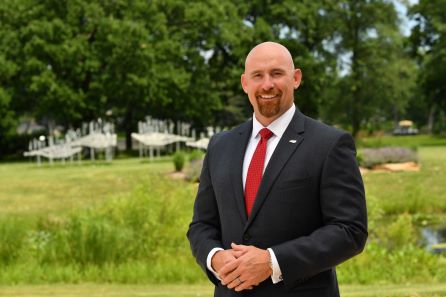 Welcome to Kankakee Community College! We take great pride in our culture of caring which means we value diversity and actively work to achieve equity and inclusion in all of our programs and services. We are eager to get to know you, listen carefully as you share with us your goals and dreams, and then help you achieve them. The KCC mission is "Enhancing quality of life through learning," and we do this by offering our students and community clients high quality and rigorous academic and career programs. We also offer numerous opportunities to connect with fellow students, faculty and staff. From personal experience, I know that when we work together, we achieve much more than we thought possible. During your academic journey at KCC, you will find people and programs that meet you where you are. From there, you can follow a path toward immediate entry into a career, or continue on to a four-year bachelor's degree. We offer a quality education at a fair cost, and we will help you meet your goals. There are a lot of great things happening at KCC. If you haven't already, please visit us and begin the conversation about your future. You can start with an information request at info.kcc.edu. Thank you!
- Michael Boyd, Ph.D.
Executive Leadership Team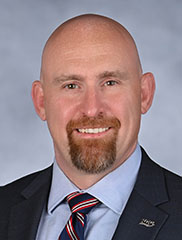 Dr. Michael Boyd
President and CEO
Dr. Michael Boyd was named KCC's seventh president in 2019. Firmly committed to community service, Boyd is engaged with numerous efforts including the Economic Alliance of Kankakee County, United Way, Kiwanis, the Kankakee Area Regional Vocational Education System and the Kankakee Grundy Livingston Workforce Board. Boyd has served as a peer reviewer for the Higher Learning Commission, chairperson of the Manteno Chamber of Commerce, president of the Illinois Council of Chief Academic Officers, and president of the Illinois Council of Community College Administrators. He joined KCC's staff in 2014 as vice president for instructional and student success, the college's chief academic officer. Before arriving at KCC, he worked at Illinois Central College, most recently as associate dean of English, humanities, and language studies. He served as ICC's Six Sigma Black Belt. As a professor of English and Humanities, Boyd was awarded the ICC Thomas K. Thomas Endowed Teaching Chair in 2007. Boyd also has been a high school English teacher and football coach. He has three degrees from Illinois State University: a bachelor's degree in English education, a master's degree in English studies and a doctorate in English studies.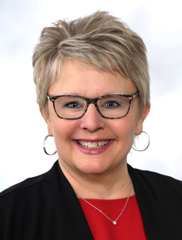 Sheri Cagle
Vice President for Academic Affairs
During 30 years working at KCC, Sheri Cagle has served as an adjunct instructor, assistant professor, professor/clinical coordinator for nursing programs, and dean of health careers. In July 2022, Cagle became vice president for academic affairs for the 2022-23 academic year. In this role, she is responsible for KCC credit division instructional services, faculty development and instructional technology, the Miner Memorial Library, tutoring services, Perkins grant management, and oversight of the Manufacturing and Industrial Technology Center. Prior to joining KCC's faculty full-time, Cagle worked for Riverside Medical Center in Kankakee and ABC Pediatrics in Bourbonnais. Cagle has served on the Riverside Medical Center Oakside Board and as Allocation Committee chairperson for the United Way of Kankakee County Board. She received the United Way "Rookie of the Year" award in 2015. Cagle has a bachelor's degree in nursing from Olivet Nazarene University and a master's degree from St. Xavier University.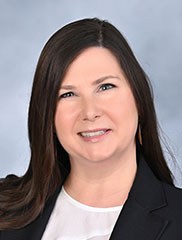 Kari Nugent
Vice President for Advancement, Marketing, and Public Relations
Kari Nugent is responsible for the college's creative team, including advertising and social media. In all, Nugent has more than 25 years in marketing and business-related positions. She joined KCC's staff in 1999 and has held positions in advising, instruction, recruitment, the college foundation and marketing. She accepted her current position in 2004. Prior to KCC, Nugent was a marketing professional at McClier in Chicago. In the community, Nugent serves as chair of the Community Foundation of Kankakee River Valley board. She also is on the board of directors for the Helen Wheeler Center for Community Mental Health, and Mattea's Joy. She has a bachelor's degree and Master of Business Administration degree from Southern Illinois University at Carbondale.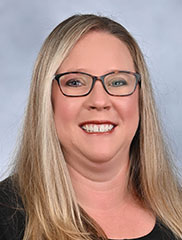 Beth Nunley
Vice President for Business Affairs & Board Treasurer
Beth Nunley has worked in Illinois community colleges for more than 20 years. She joined KCC's staff in 2011 as director of financial affairs, and has served as vice president for business affairs and board treasurer since 2020. Nunley is responsible for the development and management of the college budget, investments, accounting functions and purchasing. Along with meeting reporting requirements of the Illinois Community College Board, the business affairs division also is responsible for overseeing construction projects, human resources, insurance, risk management, physical plant operations, information technology services, and the college bookstore. Before joining KCC's staff, Nunley worked as an accountant at Joliet Junior College. Nunley is also a certified public accountant, licensed in Illinois. She has an associate degree from Joliet Junior College, a bachelor's degree in accounting from Governors State University in University Park, and a master's degree in business administration from Olivet Nazarene University in Bourbonnais.

Meredith Purcell
Vice President for Student Affairs
Meredith Purcell is dedicated to helping students achieve their educational and career goals. With more than 21 years' working in higher education, Purcell has extensive experience assisting students at various stages of their academic journeys. As KCC's chief student affairs officer, she is responsible for enrollment management, student activities, support services, recruitment, advisement, financial aid, testing services and athletics. At KCC, Purcell has also been a transfer advisor and director of student success. Purcell has been instrumental in developing retention initiatives and securing partnerships to provide mental health services to KCC students. Prior to KCC, Purcell worked at Rush University in Chicago, University of Illinois at Chicago and Kishwaukee College in Malta. She has a bachelor's degree in education from St. Cloud State University in St. Cloud, Minnesota; and a master's degree in education with an emphasis in student development in higher education from Northern Illinois University, in DeKalb.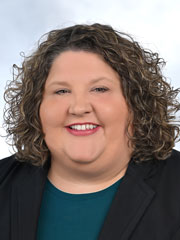 Dr. Lesley Cooper
Director, Institutional Effectiveness and Assessment
As director of institutional effectiveness and assessment, Dr. Lesley Cooper oversees the implementation of the college's strategic plan, institutional research, institutional accreditation & quality improvement, curriculum development, and assessment. Before coming to KCC in 2019, Cooper worked in various roles related to operations, registration and data at Illinois Wesleyan University, Illinois State University and Illinois Central College. Cooper has a bachelor's degree in psychology from Taylor University in Indiana, a master's degree in strategic planning from Indiana Wesleyan University, and a doctorate in higher education administration from Northern Illinois University. The focus of Cooper's doctoral work was guided pathways and engaging faculty to streamline a meaningful educational experience for students. She is also passionate about strategically utilizing data to inform process changes and quality improvements that reduce barriers to completion for students.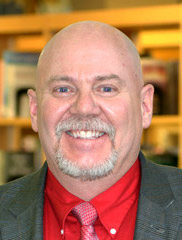 David Cagle
Senior Director of Human Resources
David Cagle has been the director of human resources at KCC since 2007. In this position, he directs and coordinates all college human resources operations, including recruitment and selection, Affirmative Action/Equal Employment Opportunities, benefits and compensation programs, employee relations, and the personnel records system. He has been on the board of directors for Commonwealth Credit Union for the past 25 years. Prior to KCC, he worked in human resources for the County of Kankakee, Kankakee County Training Center, and St. Mary's Hospital. During his tenure on the board for the United Way of Kankakee County, he was recognized as the organization's Kankakee County Volunteer of the Year. He has a bachelor's degree from Illinois State University in public relations and a Master of Business Administration degree from Olivet Nazarene University. Cagle has also earned certification as a Senior Professional in Human Resources.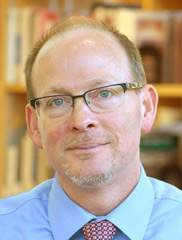 Michael OConnor
Senior Director of Information Technology Services
As director of information technology services, Michael OConnor is responsible for the college's information technology team and oversees the planning, implementation and operation of all technology initiatives. His career providing technology solutions to both industry and higher education has spanned more than 29 years. He began his career at KCC in 2002 as the college's network system coordinator and was promoted to director in 2008. He is an alumnus of Aurora University, with a bachelor's degree in computer science/business information systems. OConnor also holds various industry certifications.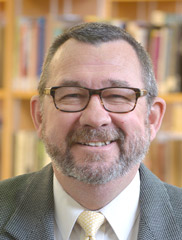 Paul R. Carlson
Dean of Business, Technology & Human Services
Paul Carlson started at KCC in 2000 in the Office of Corporate and Continuing Education as a computer instructor. He assisted in the development and delivery of KCC's first online courses. He has been the administrator in charge of the Business/Technology Division since 2008. Recently, Carlson oversaw the move of several programs to the college's new Manufacturing and Industrial Technology Center. Before joining KCC's staff, he was a software development training supervisor for CCCIS, Chicago. Carlson also has been a senior training consultant for Whittman-Hart, Chicago; and a U.S. Air Force instructor based in Denver. Carlson has a bachelor's degree from Southern Illinois University at Carbondale and a Master of Education degree from the University of Illinois at Urbana-Champaign.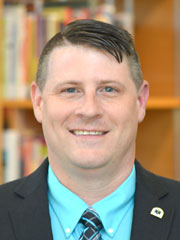 Chris Gibson
Dean of Health Careers
Chris Gibson has been dean for health careers since August 2022. He joined the KCC staff in 2018 as the Paramedic Program director and professor. He has been instrumental in bringing technologies such as virtual reality and various simulation equipment. Before working at KCC, Gibson served a total of 13 years as a paramedic for Riverside Ambulance, and firefighter/paramedic for the Bourbonnais Fire Protection District and Limestone Fire Department. He is also an Army National Guard veteran. He is actively involved with his church as well. Gibson has an Associate in Applied Science Degree from the paramedic program at KCC, a bachelor's degree from Olivet Nazarene University and a master's degree in business administration from Olivet. He also earned the Master Online Teacher Certificate and a Digital Accessibility for Educators Certificate from the University of Illinois at Springfield.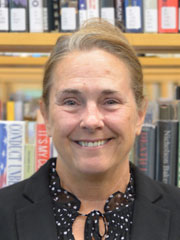 Jennifer Hays Huggins
Dean of Liberal Arts & Sciences
Jennifer Hays Huggins is passionate about providing students with the tools to meet their academic and life goals and is an active volunteer in her community. She began working at KCC as an adjunct business communication professor in 2003 and later as an English adjunct before becoming a full-time faculty member in 2013. She received KCC's Outstanding Part-Time Faculty Award in 2012 and was recognized for Excellence in Teaching in Developmental Education by the Illinois Learning Specialists and Developmental Educators in 2016. Huggins assumed the role of interim associate dean of Humanities and Social Sciences in March 2019. She holds both a Bachelor of Science and a Master of Science in communication from Illinois State University. A lifelong area resident, Huggins worked as a journalist locally and in human resources and retail management prior to joining the KCC family.
President Emeritus
Larry Huffman, Ph.D., of Peru was named President Emeritus in May 2022. He served as president from 1987 to 2001, and as interim president in 2009.