Food Services
Arena Food Service, Inc. provides dining and catering services. The cafeteria is located on the first floor of the Main Building in the College Center.
Breakfast Lunch/Grill Favorites Starbucks®
Services
New!

Mobile ordering
Daily breakfast and lunch specials
Made-to-order sandwiches
Box lunches
Catering services
Hammes Café
Main cafeteria hours
Open 8 a.m. - 2 p.m. Mon. - Thurs.
9 a.m. - 1 p.m. Friday (when campus is open)
Hammes Café hours
Fall and Spring semesters
Open 2 p.m. - 7 p.m. Mon. - Thurs.
Closed Fridays
Starbucks beverages are now offered in the cafeteria
Mobile Orders
Avoid the line. Order online and pick up in the cafeteria. https://kcc-cafe.square.site
Contact
Director of dining services
815-802-8430
foodservice@kcc.edu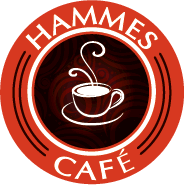 Whether you're on your way to an early-morning class or taking a break during your evening class, Hammes Café can cover your on-the-go food and beverage needs.
Hammes Café hours
Fall and Spring semesters
Closed
Summer
closed
We are serving Starbucks coffee beverages in the cafeteria.
Cafe Info
Located on the first floor, around the corner from the Main Entrance.
A KCC Wi-Fi hotspot.
Public internet access workstations.
Start your day or take a break between classes with a custom coffee, tea, smoothie or pastry. The coffee is always fresh. The smoothies are smooth (of course!) and delicious. Check out the beverage menu for details.
If you are looking for something more substantial we offer fresh prepared salads, premium deli sandwiches and chef prepared soups.
We keep prices low, making it affordable for everyone to enjoy high quality coffee, tea and much more!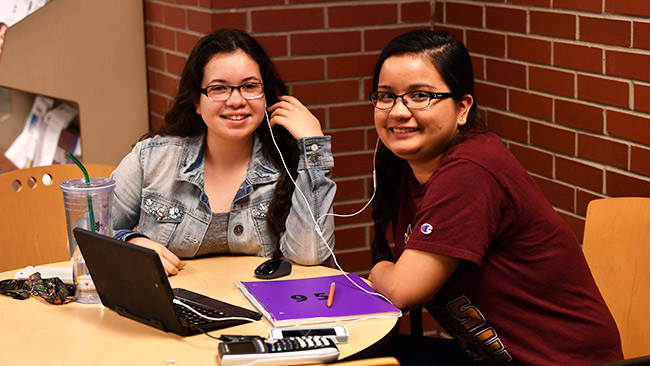 Meet, Study, Hang Out
Hammes Café can provide meeting space for professors, students, staff and community groups. Call 815-802-8430 to have a pot of coffee ready for your group.
Hammes Café
foodservice@kcc.edu
815-802-8440
Beverages
We gladly accept credit and debit cards as well as the KCC Dining Card.
Espresso Creations
| Item | Small | Medium | Large |
| --- | --- | --- | --- |
| Caffé Latte | ​2.90 | ​3.50 | ​3.80 |
| Caffé Mocha | ​3.30 | ​3.80 | ​4.10 |
| ​Chai Latte | ​3.20 | ​3.70 | ​3.90 |
| ​White Chocolate Mocha | ​3.30 | ​3.80 | ​4.10 |
| Cappuccino | 2.90 | 3.50 | 3.80 |
| Caramel Macchiato | 3.30 | 3.80 | 4.10 |
| Caffé Americano | 2.25 | 2.65 | 2.90 |
| Iced Coffee​ |   | ​2.35 |   |
|   | ​ Single | Double |   |
| Espresso | 1.75 | 2.25 |   |
Coffee
Item
Tall
Grande
Venti
Brewed Coffee of the Day
Regular and Decaf Available
1.85
2.05
2.15
​Additional Espresso shot
1.75
 
 
Additional Fontana® Syrup flavor
Vanilla, Sugar Free Vanilla, Caramel,
Cinnamon Dulce, Hazelnut, Toffee Nut
​.50
 
 
​Soy Milk available upon request
0.60
 
 
Coffee Alternatives
| Item | Tall | Grande | Venti |
| --- | --- | --- | --- |
| Tazo® Hot Tea | 1.35 | 1.55 | 1.75 |
| ​Hot chocolate | 2.65 | 3.65 | 3.85 |
Frappuccino® Blended Beverages
Item
Tall
Grande
Venti
Available Flavors
Coffee, Caramel, Mocha
Vanilla Bean, Strawberries and Crème
4.50
 
 
Fruit Smoothies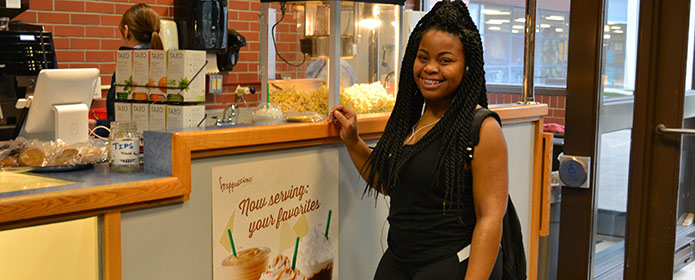 Our 100% pure fruit smoothies are a tasty and nutritious alternative. Choose a 12 oz. ($3.60) or 20 oz. ($4.10) smoothie from these delicious flavors:
Strawberry Banana
Mango Tango
Strawberry
Wild Berry
Soups, Salads and Sandwiches
We are happy to offer a wide selection of food and snack options. Whether you need a quick meal, healthy snack or you wish to indulge in a decadent desert, we have what you are looking for.
Item
Price
Hammes Sandwich
Ham, Honey Mustard, Swiss Cheese, Red Onion,
Lettuce, Tomato on a Ciabatta Roll.
$4.95
Premium Deli Sandwich/Wrap
$4.95
Premium Salad Selection
Varies
​Chef's Selection of Soup
$3.15
| Snacks and Pastries |   | Price |
| --- | --- | --- |
| Yogurt | Regular | $1.70 |
|   | Greek | $2.50 |
| Fruit, Yogurt and Granola Parfait |   | $3.30 |
| Hummus with Pretzels |   | $2.85 |
| ​Fresh Fruit Salad |   | ​$2.85 |
| ​Chips |   | ​$1.30 |
| ​Mojo Bars |   | ​ $2.15 |
| ​Awake Bar |   | ​$2.15 |
| ​Nature Valley Bars |   | ​$1.40 |
| ​Popcorn | ​ | $1.15 |
| ​Fresh Baked Breakfast Pastry | ​ | $1.95 |
| ​Slice of Fresh Baked Pie | ​ | $3.35 |
| ​New York Style Cheesecake | ​ | $4.20 |
| ​Double Layer Cake | ​ | $3.85 |
| ​2 Fresh Baked Cookies | ​ | $1.75 |
| ​Pudding Parfait | ​ | $2.25 |
| ​Packaged Pastries | ​ | $2.25 |
The Arena catering guide will assist you in planning your next catered event at KCC. The menu items are merely suggestions. Consider them a starting point for the successful planning of your event. Our goal is to exceed your expectations and provide a pleasant, carefree catering experience.
Ordering
Place your initial inquiry at least 10 business days prior to your event to ensure efficient planning. All events scheduled with less than 10 days notice are subject to availability of product and scope of involvement.
Once an event is booked with Arena, we guarantee availability for that particular event unless otherwise specified.
We ask that all menu and event arrangements be finalized at least 5 days prior to the event date whenever possible. Place an order by calling the food service office, 801-802-8430, or emailing the catering order form to foodservice@kcc.edu.
Prices and Menu
We are happy to work with you to custom design either individual items or an entire menu for your event. Pricing includes setup and teardown of your event, premium disposable service ware, and linens for buffet tables.
Pricing does not include service labor or any ancillary items such as rental equipment, additional linens, items not specifically listed as included or any applicable sales tax.
A change in menu, significant change in meals to be served, staff requirements or general change in scope of work may require a recalculation in quoted price.
Staffing Services
Service staff are charged at $18 per hour with a 4 hour minimum. We suggest the following staffing levels for events that require staffing.
Reception/ hors d'oeuvres - 1 staff/50 guests
Buffet - 1 staff/30 guests
Served Meal - 1 staff/16 guests
We reserve the right to assess additional labor fees based on the requirements of the event. If needed, this additional service will be discussed in advance of your event.
Guarantee Amounts
We appreciate an estimated number of attendees as soon as possible after booking. Arena requires a guarantee of the amount of guests to be served at least 3 business days prior to the event. Any change up from the guarantee number made within three days of the event is subject to availability.
Catered events will be charged either the guarantee amount or the actual attendance, whichever is higher. Arena Catering does not guarantee service, food or space for any amount of guests above this amount.
Arena Catering reserves the right to amend guarantee dates and charges at any time due to specific needs and commitments involved with your event.
Cancellation Policy
Arena reserves the right to charge the full expected price of a scheduled event should it be cancelled with less than a 3-business-day notice.
Deposit and Payment Terms
All events that are to be billed directly to KCC will be invoiced after the event. All events hosted by an outside organization will require a deposit of 75% of the total anticipated invoice at the time of confirmation, with final payment due prior to the event unless prior arrangements have been made and approved by the food service director. Prior arrangements of credit can be arranged for corporate clients and repeat customers.
Under certain circumstances, Arena Food Service, Inc. will require a larger deposit or prepayment due to the commitments required by the event or past payment history. We reserve the right to change payment terms for any reason without notice.
Leftover Food
Due to regulations and concerns regarding the safe handling of all food items at all times, any food or beverage leftover at the conclusion of the service period shall remain the property of Arena Food Service, Inc. It is the sole responsibility and discretion of Arena Food Service to designate the proper disposition of any leftover food products.
Contact
Please contact the director of dining services with any questions or concerns.
Phone: 815-802-8430
Email: foodservice@kcc.edu